Bread with chestnuts and cranberries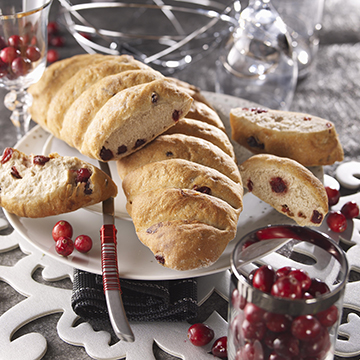 Preparation

Preparation:
1 - In a bowl, mix flour and salt. Add warm water and the yeast.
2 - Stir with a spatula for 2 minutes. Mix again until a smooth dough forms.
3 - After finishing kneading with a roller on your desktop, your dough should be smooth and slightly elastic. Finally add the chestnuts and cranberries.
4 - Form a ball and place it in your container. Cover it with a damp cloth and let it ferment for 30 minutes in a warm place.
5 - - Divide the dough into 3 equal parts and shape them into a long loaf and place them on your baking sheet,keeping them separated by at least 10 cm.
6 - Leave them under damp cloth until it doubles in volume (about 45 minutes). Make incisions on top of bread with a knife.
7 - Spray water on the surface of the loaves. Bake in oven preheated to 220 ° C for 14 to 15 minutes.
Ingredients
Flour (T55): 533 g
Water: 460 ml
Fresh Yeast: 33 g
Rye flour (T170): 133 g
Chunked chestnuts: 200 g
Cranberries: 133 g