Crab bread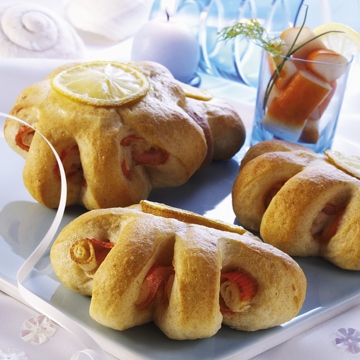 Preparation:

Preparation::
1 - In a bowl, mix flour and salt. Add warm water and yeast. Stir until a smooth dough forms.
2 - - Finish kneading with a roller on your desktop. Your dough should be smooth and slightly elastic. Form a ball and place it in your container. Cover it with a damp cloth and let it ferment for 15 minutes in a warm place.
3 - Take the dough and divide it into 10 or 12 equal parts and shape them into balls. Fold in a crab stick in each ball of dough. Form them into small tubes.
4 - Leave them proof under damp cloth until they double in volume (about 60 minutes). Make incisions and gently bend the tubes. Before putting them into the oven, brush them with water.
5 - Bake them in the oven preheated to 230 ° c for 20 minutes.
Ingredients
Salt: 9 g
Water: 353 g
Rye flour (T170): 333 g
Surimi: 267 g
Flour (T55): 213 g
Fresh Yeast: 33 g