Sicilian Sandwich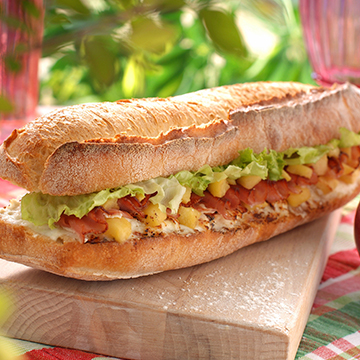 Preparation:

Preparation:
Making the bread:
1 - In a bowl, mix the flour, salt and oil.
2 - Dissolve the yeast in water and pour into the bowl.
3 - Combine with a spatula until you have a homogeneous dough and finish working it with a rolling pin.
4 - Form a ball with the dough, place it in a bowl and cover with a damp cloth. Leave to ferment for 60 minutes in a warm place.
5 - Take the ball, divide into equal parts of about 350g then leave to stand covered over for about 10 minutes. Make long breads using a rolling pin. Place them on a baking sheet and leave to proof, covered, for 60 minutes.
6 -Brush your batons with olive oil. Bake in an oven preheated to 220°C for 25 minutes.
To prepare the open sandwich:
1. Place the slice of bread on a rack covered with aluminium foil. Sprinkle the bread with a little of olive oil.
2. Arrange slices of dried tomato and mozzarella on the bread. Bake at 200°C for 15 minutes, until the bread is golden and the mozzarella well melted.
3. Remove the bread from the oven, place small pieces of ham and small salad leaves on top, and serve either whole or cut into pieces.
Ingredients
Mozzarella: 67 g
Flour (T55): 933 g
Salt: 20 g
Water: 560 g
Olive oil: 93 g
Dried tomato: 67 g
Salad: 27 g
Cured ham: 67 g
Dry Yeast: 11g