Brioche with shrimp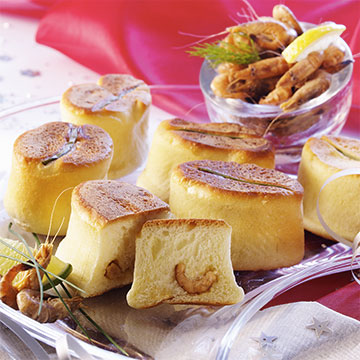 Preparation

Preparation:
1 - In a bowl, mix flour, sugar and salt.
2 - Add the warm milk, eggs and yeast.
3 - Mix with a spatula for 2 minutes to obtain a smooth dough.
4 - Add the mild butter in small cubes and then mix them again to obtain a smooth dough. Finally roll the dough on your countertop. Your dough should be smooth and slightly elastic.
5 - Form a ball and place it in your container. Cover it with a damp cloth and let it ferment for 30 minutes in a warm place.
6 - Take the dough and divide it into 20 equal parts, then add shrimp. Put the dough into moulds. Let it rest in the damp cloth until it doubles in volume (1h 45min) Bake in oven preheated to 180-190 ° C for 20 minutes.
Ingredients
Salt: 11 g
Milk: 287 ml
Butter: 53 g
Egg: 1
Grey shrimps: 333 g
Flour (T55): 533 g
Sugar: 53 g
Fresh Yeast: 33 g