Focaccia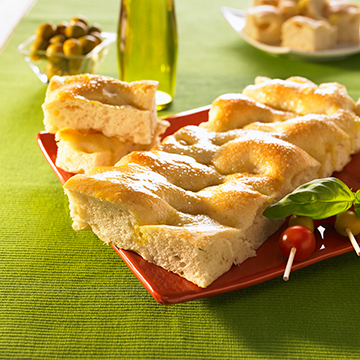 Preparation

Preparation:
1 - Mix all of the ingredients in a bowl. Knead until completely blended.
2 - Leave the dough to ferment for 30 minutes and cover with a damp cloth.
3 - Roll the dough out and leave to rest for another 30 minutes.
4 - Mix 30g water, 100g olive oil and 5g salt, spread some of this mixture on the dough. Push your fingers into the dough to make lots of holes.
5 - Leave to proof for 30 minutes.
6 - Bake at 220 °C for 12 minutes.
Ingredients
Flour (T55): 667 g
Salt: 13 g
Water: 433 ml
Olive oil: 53 ml
Fresh Yeast: 13 g