Tex-Mex bread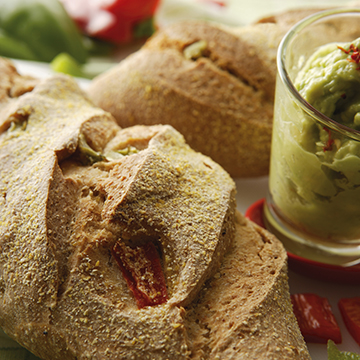 Preparation

Preparation:

1 - Mix the flour, corn meal and salt in a bowl.
2 - Stir the milk and water into the yeast and add to the bowl.
3 - Blend with a spatula for 2 minutes, then add the diced peppers and the Mexican spice mix. Mix again until you have a smooth dough and finish by kneading with a rolling pin.
4 - Shape the dough into a ball, put it back in the bowl and cover with a cloth. Leave to ferment for 60 minutes in a warm place.
5 - Take the ball of dough, divide it into 4 equal pieces and leave to rest, covered, for 10 minutes. Shape the dough into 4 long rolls, place them on a baking sheet and leave to proof, covered, for 2 hours.
6 - Put the rolls in an oven pre-heated to 220°C and bake for 20 minutes.
Ingredients
Flour (T55): 500g
Mexican spice mix: 20g
Corn meal: 60g
Salt: 12g
Wholemeal flour: 140g
Milk: 10ml
Water: 450ml
Bell pepper: 9g
Rye flour: 140g
Dry yeast: 9g